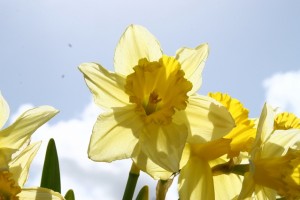 We are incredibly lucky to live in such a beautiful part of the country and fully advocate the benefits of sending your children to a rural pre-school.
Not only do we have stunning views over the fields from our windows and our garden and nature literally on our doorstep but we are situated at the heart of a close-knit community that genuinely cares about our children.
We are very lucky to be situated next to a farm owned by a lovely farmer who invites us to take the children to visit at various points in the year to meet the animals and learn about the different activities and processes going on. This week we were invited to go and see the new calves and watch them being bottle-fed.
Just one of the benefits of our location is that we are able to do this without any transport as we just pop the children's wellies on and wander across the field to the farm!
We had a beautiful spring day for our visit as the sky was blue and the sun was shining, bringing some very welcome warmth after a cold winter. It was the perfect day to go and meet the new arrivals and all the children had a wonderful time.
They got lots of exercise, fresh air and Vitamin D from the sunshine and learnt about the baby animals and their needs. They also got to enjoy nature's offerings along the way as they saw lots of spring flowers and buds opening on the trees.
We'd like to thank our lovely neighbour for her kind invitation and we look forward to our next visit with the children.